Jan 3rd, 2022
7 Tips for Cycling Safety in Taiwan
7 Tips for Cycling Safety in Taiwan
If you have spent any time in Taiwan, then you have certainly experienced the astonishingly welcoming and authentically friendly nature of the locals. However, Taiwanese driver behavior often resembles that of a Mr. Hyde instead of a Dr. Jekyll. This has a big impact on cyclists in Taiwan.
At least 28 cyclists were killed in 2016 in Taiwan. That sounds mighty bad for such a tiny island, but this number has fallen from 43 deaths in 2015, and 53 in 2014. Taiwan is moving in the right direction when it comes to biking safety, but the road can still be a risky place for a cyclist.
Here are 7 simple tips to help you cycle safely in Taiwan.
1. Always keep to the right, everywhere!
You may see other bikers and scooter drivers in the middle of the road, or even hugging the left-hand and hurtling in the opposite direction of traffic! This is not Rome, so you need not follow these dangerous local habits, especially as a new cyclist in Taipei.
2. Never ever ever assume you have right of way… ever.
Even if you have a green light, or are walking with your bike on a crosswalk or sidewalk, never assume other drivers will yield for you. Failure to yield often causes more traffic deaths than any other violation in Taiwan, including drunk driving! It is safest to simply let motorists go first, even if you legally have the right of way.
3. Focus on what's in front of you.
As an imperfect rule of thumb, motorists in Taiwan tend to focus much more on what's ahead than what's behind. While this is a helpful life philosophy, it makes for dangerous driving habits.
It is common to see scooter drivers making completely blind right-turns into heavily trafficked lanes without so much as glancing behind them.
Motorists will often also turn right without checking who is approaching. You should never try to overtake a turning vehicle right unless you have a fetish for T-boning a 2 ton hunks of steel and aluminum.
4. Keep an eye out for car doors.
The streets of Taipei are lined with illegally parked cars whose drivers seemingly make sport of thrusting doors open as quickly as possible. As a cyclist you will often ride past these vehicles while hugging the side of the road, so this is something you must keep a close eye out for.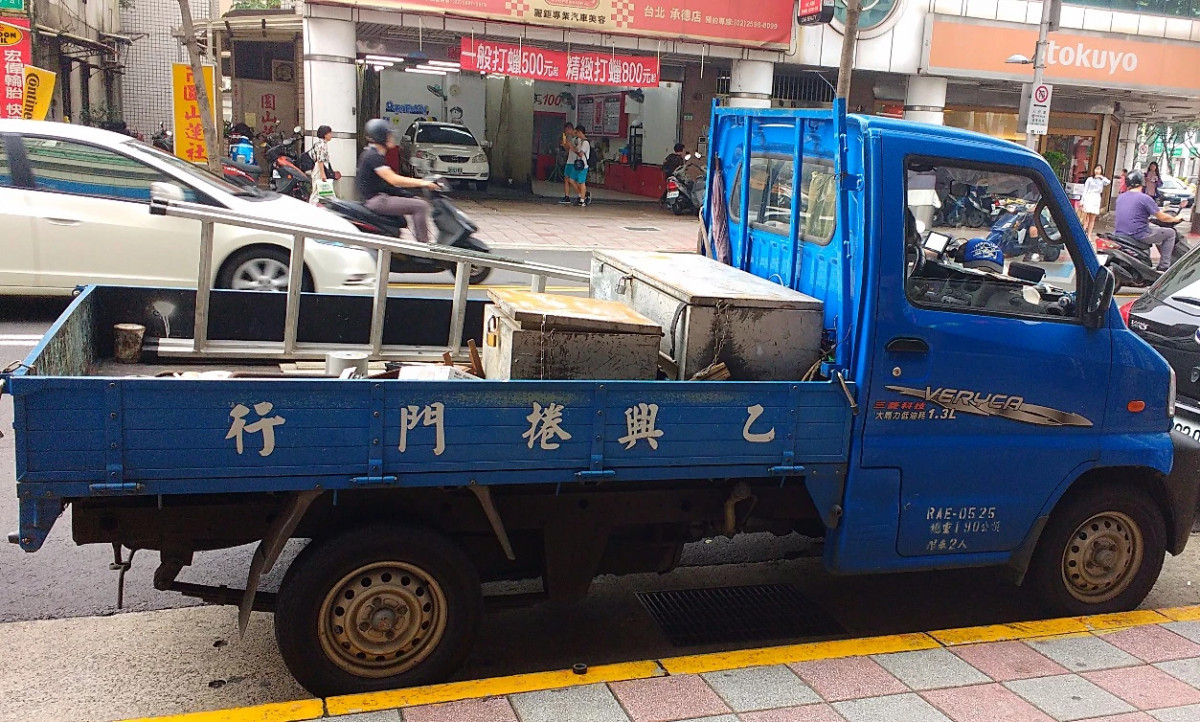 6. Do not turn left at large intersections.
At most large intersections, cyclists cannot directly turn left. You need to do a box-turn, otherwise known as a two-stage turn. At intersections where it is required to do a two-stage turn, you will see a sign indicating a two stage-turn and/or a queue box. You must go straight across the intersection, then stop in the designated queue box. Wait there until the light in the opposing direction turns green. You may then proceed toward your desired direction. Even at intersections where a two-stage turn isn't required, it is sometimes in your best interest of safety do one anyway, especially at busier intersections.
7. Don't forget to wear a helmet!
It is not illegal to bike without a helmet in Taiwan, but that doesn't mean it is smart. Cyclists without helmets are more than twice as likely to suffer severe injuries or death. Protect that meatloaf between your ears, you might need to use it at some point.
8. Have fun!
If you still think cycling in Taiwan is scary, that's okay! We can show you around on one of our tours around Taipei! Our tours will guide you through the quiet back roads and bike paths so you can explore Taipei safely. We will guide you on a cycle tour to Taipei's most renowned sights, bike trails, food stops, and more! Reserve your spot on the best bicycle tour in Taipei!